Landscape Design Pricing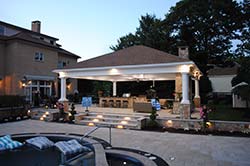 You know a great landscape design when you see one. It is perfectly laid out, well balanced and functional. Would you like the same for your yard? Then contact the team at Krefta Landscaping. We provide a full range of landscaping and hardscaping services throughout Eastern Massachusetts.


Enjoy the Benefits of Professionally Designed Landscapes
Increases the aesthetic appeal of your property
Boosts property value
Ensures a low maintenance landscape
Plants and shrubs thrive because professionals have chosen them for your location
Luxuriate in your landscapes because they are so much more enjoyable
One Contractor from Idea to Installation
Your ideas and goals matter to us. Our professional designers will sit down with you and work out what you desire from your outdoor environment. Our team listens and then uses the latest and most advanced landscape design software to give you innovative and creative designs.

Feel free to collect ideas by cutting out pictures from magazines or perhaps browse our project gallery to see some of our unique creations. We want to know your wish list. Whether it is something as practical as rain water harvesting or as helpful as a heated driveway, our designers will guide you all the way through from planning and design to installation and maintenance.


Green Landscaping Solutions
If you are looking for sustainable landscaping solutions or have environmental restrictions, we can assist you by conducting a site analysis and creating of a well thought out design that takes into account the conditions of your specific environment. The proper placement and selection of plantings and hardscape materials will be chosen to align with your environmentally-friendly goals, yet achieve a beautiful, balanced and stunning end product.

Contact us today by calling

781-249-0012

or go to the Request a Consultation section of our website.


Services + Fees
Services
Description
Pricing
Landscape Price Quote
Meet with client on site to discuss project details & objectives, and observe site conditions. Prepare written price quote for client. Typical time investment for us is 8 hours (travel, meeting, office, revisions, discussions, and finalization).

* This fee is refundable if Krefta Landscaping, Inc. is awarded the build contract associated with the written price quote, and the fee shall be returned to client in the form of a credit towards the cost of the project.

*

$150
Landscape Design Plan
Perform site inventory & analysis evaluating current conditions. Work with client to determine needs, desires, & preferences to develop a vision of the final project. Prepare, present, and discuss initial conceptual designs for client feedback. Prepare initial schematic diagram showing to scale proposed changes to landscape and obtain feedback from client for revisions. Finalize schematic diagram and develop & present Illustrative Master Plan (bird's eye view) and Graphic Rendering (ground view) of new landscape. Upon approval of final plan, work with client to choose materials (hardscape & softscape) based on client's needs & preferences. Prepare construction documents for site prep, grading, materials layout, planting, irrigation, & lighting (if/where applicable). CLICK HERE to see sample design plans.

**

$3,500
Please Note: Upon agreement between both parties, pricing is subject to change
depending on site complexities and project requirements.