Carpentry & Decking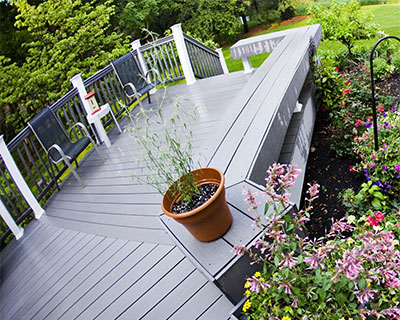 Enhance Your Outdoor Living Experience with Custom Decks
Imagine stepping outside your home into a beautifully designed and meticulously crafted outdoor living space. A deck not only expands your usable living area but also provides a versatile and inviting environment for relaxation, entertainment, and making cherished memories with family and friends. At Krefta Landscape, we specialize in creating custom decks that seamlessly blend aesthetics, functionality, and quality craftsmanship.


Transform Your Home with a Custom Deck
A well-designed deck is a valuable addition to any home, offering a multitude of benefits that go beyond its visual appeal. Here's why you should consider adding a custom deck to your property:


Expanded Living Space: A deck provides an outdoor extension of your indoor living area, giving you more room to enjoy nature, host gatherings, or simply unwind in the fresh air. It's the perfect place for lounging, dining, or setting up outdoor furniture for relaxation.
Improved Curb Appeal: A thoughtfully designed deck can significantly enhance the overall aesthetic appeal of your home. With our expertise in custom deck construction, we can create a visually stunning and harmonious addition that complements your home's architecture and style.
Versatile Functionality: Whether you envision a cozy space for intimate gatherings or a sprawling deck for entertaining a larger crowd, we can bring your vision to life. Our custom deck designs are tailored to your specific needs and lifestyle, providing you with a versatile space that suits your preferences.
Increased Property Value: Adding a well-crafted deck to your property can boost its market value. It's an attractive feature for potential buyers, making your home stand out in the real estate market.
Quality Craftsmanship and Attention to Detail
At Krefta Landscape, we take immense pride in our commitment to quality craftsmanship and attention to detail. Our skilled team of carpenters utilizes the finest materials and techniques to ensure that your custom deck not only looks stunning but also withstands the test of time and the elements.

We work closely with you throughout the entire process, from the initial consultation to the final installation, ensuring that your deck aligns with your vision and requirements. We pay meticulous attention to every aspect, from the structural integrity to the finishing touches, to deliver results that exceed your expectations.


Get Started Today
Are you ready to enhance your outdoor living experience with a custom deck? Trust the expertise of Krefta Landscape. Let us bring your ideas to life and create a deck that seamlessly integrates with your home, lifestyle, and personal style. Contact us today to schedule a consultation, and let us transform your outdoor space into a captivating retreat.